Philosophy
4Slam Tennis Academy wants to help competitive players to reach top competition in ATP / WTA´s. Therefore we have built a strong team who have first- hand knowledge and experience at ATP/WTA level.We strongly believe in professionalism, dedication, and an individual approach. 4Slam Tennis Academy works with a small group of players. 4Slam Tennis Academy forms athletes from a personal and tennis point of view, helping them to become better people and develop a respect for everybody, guiding and supporting their personal growth.We believe in strong work ethic, humble attitude and a desire to achieve.
Methodology
The 4Slam Tennis Academy's methodology has been developed from a long experience on the ATP circuit. We believe in hard work with an individual approach. Each player follows their own personal plan prepared to include training goals and competitions for the year ahead.
At the commencement of your training 4Slam Tennis Academy will provide you with:
- An analysis of your technical and tactical tennis skills
- An initial test of your physical condition
- and a report on mental skills after a competitive event


Your annual goals will be set in conjunction with your coach, based on the following levels:
- Technical and tactical goals
- Physical training
- Competition targets
- Mental strength build


These will be reviewed quarterly, to address any needs and to re-evaluate your development and physical progress.
For monthly programs, an initial report will be given, as well as a final review including recommendations for future training.
The 4Slam Tennis Academy methodology is based on the concept that a player has to be in a top condition in the following three areas, in order to compete at a high ATP/WTA level: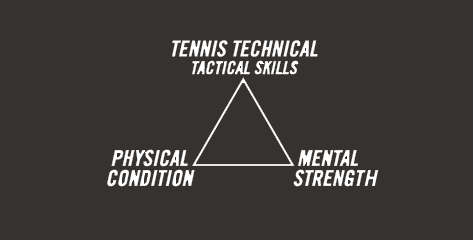 Depending on the level of the player this process needs time, and a combined system of training, where technical/tactical skills, physical work and mental training are provided in all exercises.
Our system of training is based on several factors and all components are included in every training session:
- The components are physical, technical, tactical and mental
- Training sessions are highly focused on the needs of the player
- Clay court specific training, stroke technique, strategy and tactics
- Mobility training for clay and hard courts. Foot work
- Intense physical training
- Aerobic/anaerobic condition training, strength and power development
- Individually adapted training for every player
Facilities
4Slam Tennis Academy has some excellent facilities, located close the sea and the limits of towns with all amenities.
4SLAM TENNIS CLUB
It is located in Gava Mar, a strategic location only 5 minutes to the airport and 10 minutes drive from Barcelona.
- 5 Clay Courts
- 4 Hard Courts
- 2 Mini-tennis Courts
- 2 Paddle Courts
- Fully equipped gym with the latest generation of cardio and strength equipment
- Swimming pool
Accommodation Options
We offer our players to stay in our Residence. The building is similar to a mini-hotel with spacious common areas and garden. The monthly cost of 600€ per person includes: room (shared, double, ensuite), linens (changed regularly), daily cleaning service, transfer to and from the academy twice a day.
Other Services
VISA PROCESSING:
4Slam Tennis provides those players who require it with access to legal services such as the processing of visas, student cards and residency permits.

MEDICAL INSURANCE:
4Slam Tennis Academy has a partnership agreement with the medical services of the Spanish Tennis Federation. We want our players to have a full medical assistance which provides them with a quick, appropriate and personalized diagnosis, and why we consider the subscription of an insurance policy compulsory. It is very important for us to have the support of the best professionals in sports medicine, as well as the best medical centers.
PHYSIOTHERAPY:
4Slam Tennis Academy provides all players with physiotherapy services to treat injuries, for check-ups of musculoskeletal levels or, if it is necessary, to get muscular discharge massages.
SPORTS PSYCHOLOGY AREA:
4Slam Tennis Academy has a group of known psychologists at the service of athletes, working on motivation in training and competition, control of negative situations in the game, evasion techniques, etc., taking into consideration each player's personal and emotional needs.
NUTRITION:
The academy has an expert in nutrition, who is in direct contact with the department of fitness.
Programs are developed according to specific nutritional needs and eating habits of each athlete.